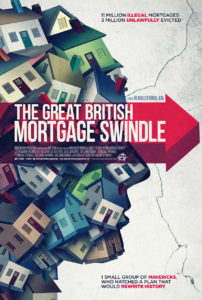 The Great British Mortgage Swindle [2018]
Country of Origin: British Isles
Genre: Documentary Feature Film.
Producer-Directors: The Michaels of Bernicia & Deira
Running time: 99 minutes.
Format: HD Blu-ray/DCP.
Rated: 12 [provisional]
Ticket Price: £6.00 [20% discount].
Offer Expire: 31/05/2018.
Pre-book your tickets to see the film in the following locations:
Click on the town or city in which you want to see the film and follow the instructions to purchase your discounted ticket.