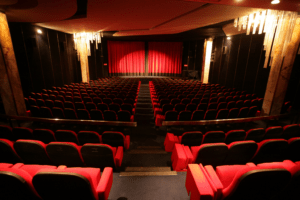 Cinema-on-Demand is a demand-based delivery system for the cost-effective screening of feature films in independent cinemas.
How does it work?
All seasoned film producers, distributors and exhibitors know all too well that, whether it is a good thing or not, the vast majority of people now choose to view films online or on some form of video disc, which naturally gives rise to a critical question:
Is it worth spending any money at all trying to lure people back into theatrical screenings with traditional nationwide marketing campaigns?
The effect of implementing the Cinema-on-Demand concept into the business model of an independent cinema chain [as well as individual venues] is to eradicate the vast majority of a distributor's marketing spend by pre-selling seats in advance, on a per screening basis, which has obvious benefits for the exhibitor, as well as the filmmakers.
By way of example, a venue in Nottingham agrees with a film's producers/distributor that a film can be screened there on a date and at a time to be agreed in the future, once 25% of the tickets for that screening have been pre-booked and paid for. Those who wish to pay on the door will have the opportunity to do so, but only if the screening is not sold out in advance.
That sounds great, but how will we get those bums on seats?
That is a very sound and pertinent question. Bums on seats will be achieved by and through:
1. the creation of high quality social media and web pages for each film by the film's producers, from as early a stage as possible, thereby maximising the time available to sell all seats at each screening;
2. building an online community of people who are interested in seeing each film, as well as people who are happy to promote it by sharing publicity materials, such as movie teasers and trailers, on all the major social media platforms;
3. members of the community [and those who are exposed to the publicity materials] pre-booking seats at a cinema most convenient to them, perhaps at a discounted price, which they will do at the film's website and social media pages, via on online Box Office;
4. placing two film posters at each venue, to further publicise the screening, which will also be listed in all the usual listings made by the cinema and publicised in any other way the film's marketing team see fit; and
5. placing the film's trailer on an exclusive platform, which appeals to the target audience.
In simple terms, since no venue will be booked until all costs are covered in advance [at which point a hire fee / minimum guarantee will be paid in full to the cinema]; and the need for marketing spend is all but eradicated using online tools and word of mouth; all the costs are significantly limited and the potential for returns is greatly increased.
How long should there be between booking the venue and the screening?
The answer to that question will always depend upon the particular venue or venues involved, as well as the nature of the film's publicity campaign, but potential problems in that regard can be solved if each cinema's program manager is able to offer the film in question a slot that would normally be allocated for potential hire, which are generally available most weekends.
For example, a film sells 75% of the tickets for its screening, before it is booked in the venue to take place four weeks later, at 12pm on a Saturday afternoon, during which time the rest of the tickets are sold, resulting in a full house of 350 people spending an average of £6.00 on confectionery.
The costs to the cinema are of course covered by the hire charge, which is paid in advance by the distributor, as soon as the date of the screening is confirmed; whilst £2,100 is returned from food and drink sales.
What are the benefits?
The benefits of implementing the Cinema-on-Demand model are multiple, for the filmmakers, distributors and exhibitors alike.
1. The major benefit for the filmmakers is that their films will enjoy at least a limited theatrical release, which can be used to promote digital home entertainment releases, in many and varied ways.
2. The distributors of films benefit hugely by saving the vast majority of the finance they would normally have to allocate to promote a nationwide theatrical release, simply by booking screenings on an on-demand basis, once their costs are covered.
3. The exhibitors enjoy the significant benefits of a dramatic increase in the numbers of people at their screenings, including the inevitable increase in their revenues from the sale of confectionery and beverages; as well as benefiting from having their costs covered up front by the hire fee.
4. Everybody benefits from the increased returns from the theatrical release of the film, which is also utilised to promote the release across other media; as well as the dramatically reduced marketing budget required, which further increases the net returns.
5. The film industry benefits as a whole because cinemas will be doing profitable business again, whilst distributors and exhibitors will have little to no risk of running at a financial loss.
6. Cinema audiences benefit because they will be able to see films which would never normally be deemed risk-worthy of theatrical release.
In other words, using the Cinema-on-Demand model, everybody wins.
AFP is therefore delighted to announce that The Great British Mortgage Swindle will be released in cinemas using the Cinema-on-Demand model in the Autumn of 2018, in association with UK COD trailblazers, Our Screeen.
Details of how you can book your ticket to see the film will be announced in due course. All those people who have already pre-booked tickets will soon receive an email confirming the screening dates and participating venues.
Many thanks for supporting truly independent film development, production and distribution.